Weather report from Zelgstrasse in Adliswil
The weather station moved to Switzerland in 2013 and got installed on the balcony on 18th of December.
Between 2009 and 2013 it was at Guldheden in Gothenburg.
The weather station device was bought at Clas Ohlson (artikelnr 36-3242) but is sold as many different brands internationally. The most common product name seems to be WH1080.
Weather station id on Weather Underground: IZRICHAD2
Thermometers at home
Last 6 hours
Date & time
Temp
Humidity
Wind
Rain
Pressure
dir
ave
gust
2023/09/30
0758 CEST
21.3 °C
99%
0 mph
0 mph
0.0 mm
1000 hPa, falling very rapidly
0858 CEST
17.2 °C
39%
0 mph
0 mph
4.5 mm
1011 hPa, rising slowly
0958 CEST
19.6 °C
24%
0 mph
1 mph
0.0 mm
1011 hPa, rising
1058 CEST
23.5 °C
16%
0 mph
0 mph
0.0 mm
1011 hPa, rising very rapidly
1158 CEST
27.8 °C
0 mph
0 mph
0.0 mm
999 hPa, falling very rapidly
1258 CEST
24.2 °C
10%
0 mph
1 mph
4.5 mm
1010 hPa, falling slowly
1358 CEST
23.1 °C
13%
0 mph
1 mph
0.0 mm
1010 hPa, falling slowly
Last 24 hours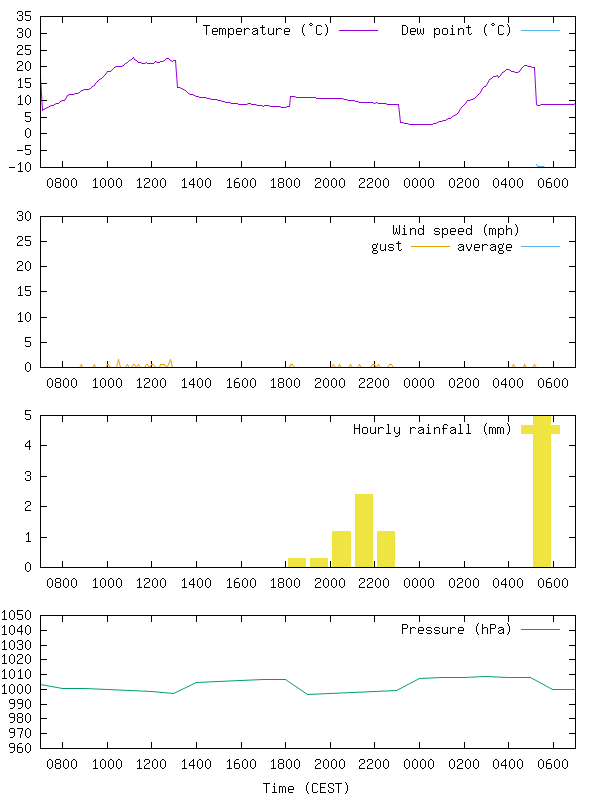 24 hours ending 2158 CEST on 29 Sep 2023
Date & time
Daytime max temp
27.4 °C
2023/09/29
1718 CEST
Night min temp
10.4 °C
2023/09/29
0548 CEST
Total rainfall
9.0 mm
Average wind speed
0 mph
Highest gust speed
1 mph
2023/09/29
0043 CEST
From 2200 CEST on 29 Sep to 1358 CEST on 30 Sep 2023
Date & time
Daytime max temp
28.2 °C
2023/09/30
1123 CEST
Night min temp
15.3 °C
2023/09/30
0703 CEST
Total rainfall
13.5 mm
Average wind speed
0 mph
Highest gust speed
1 mph
2023/09/30
1328 CEST
Last week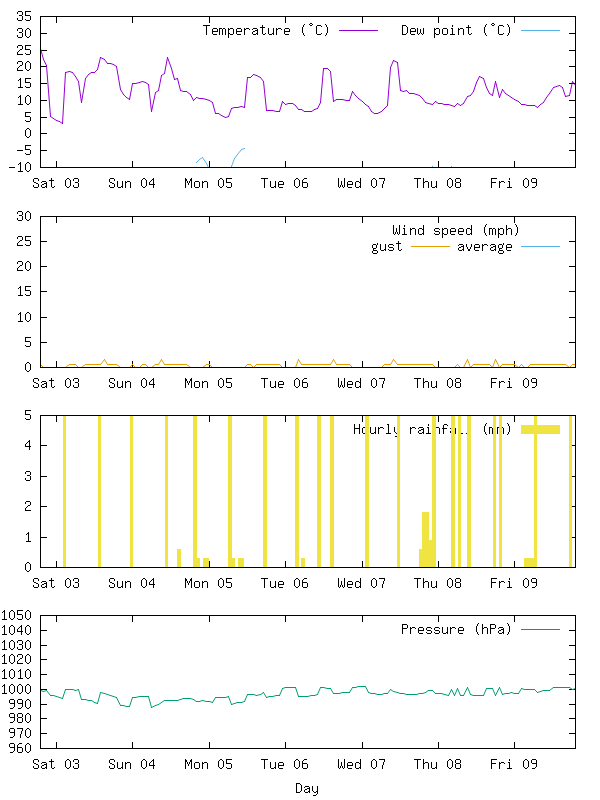 Last month